one on one coaching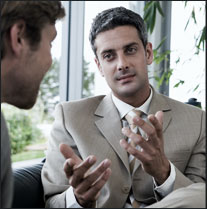 How The Service Works
1. We discuss your situation and needs to determine a marketing coaching program and schedule that works best for you – this call is free and can take up to 30 minutes. In preparation for this discussion, we will ask you to complete a 'needs analysis' and return it to us by email – this will help form the basis for your future coaching sessions.
2. We offer two CORE MARKETING programs:
a) Our 1 per month (for 12 months) telephone coaching service is like having a non executive marketing director to call and discuss
marketing issues and ideas at a high level once a month. Ideal for owners of small to medium sized businesses.
b) Our 1 per week (for 12 weeks) telephone coaching service is designed to provide pragmatic weekly input into your marketing issues
and challenges and is aimed at those with more pressing day to day marketing responsibilities.
3. Select a core package from '2.' above as it is or, if you prefer, add extra sessions or increase the frequency of sessions as you wish at any time.
How Does A Marketing Coaching Session Work?
1) Your individual 'marketing coaching needs analysis' will help shape the outcomes that you wish to achieve from the overall coaching program. Each session will address an aspect of your overall desired outcomes as well as leaving time to discuss other day to day marketing issues which you may wish to raise. Flexibility is built in to ensure you get the most relevant value from each session.
2) You agree a (fixed) time, for each session, when you will call your marketing coach. You make that call and each session will last 45 minutes. Calls are conducted during normal working hours unless special arrangements are made with your coach.
3) Your coach may ask you to do some 'preparation work' before each session to help you get the most from each session and improve your marketing skills.
4) At the end of each session your coach will agree with you what is to be covered in the next session and any preparatory work you may need to do. We will email you any specific marketing forms that we wish you to complete. Other preparatory work may not require forms, in which case an email will be sent to you outlining the preparatory work expected for the next session.
5) Marketing coaching is about helping you enhance your marketing know-how and get better results for your business. Measuring outcomes of each session is important to you and us, so we may ask you to take action following each marketing coaching session and report those actions and results in our next meeting.
In Summary
Initial (free) 30 minute pre-engagement session to establish your needs.
Email support available for issues that arise between coaching sessions.
Optional face-to-face coaching and classroom style training is available upon request.
Packages of 12 x 30 minute sessions available @ $499.00; Packages of 12 x 60 minute sessions available @ $750.00
Package frequency can be altered to suit needs (intensive 1×12 weeks or extended 1×12 months)
Ala Carte PER CALL also available. Call for details.